"Two people have lost their houses already within the last 30 minutes," said Madde at the Little River General Store about 1pm.
One was located in Edgars Road, and one on Narraburra Road, she said.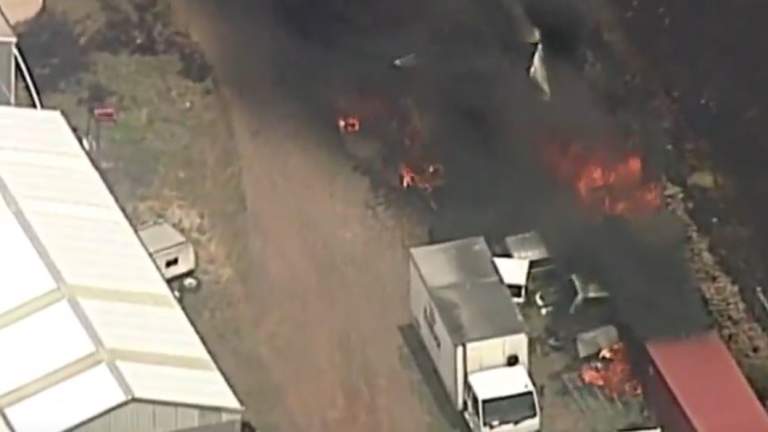 A CFA spokesman told ABC Melbourne radio they were still assessing the damage but believed some sheds had been affected.
"We have some vision of some sheds that are impacted, so not knowing exactly the extent, we have vision of sheds but no sign of any houses… some good work has been done to save some houses," he said.
Authorities are yet to confirm that houses have been lost, except to say that there are houses in the evacuation zone.
A relief centre has been set up at Centenary Hall on the corner of Cox Road and the Princes Highway, Norlane, and it will be open at 2pm.
CFA Little River incident controller Geoff McGill said the fire was being treated as suspicious.
"The initial information we received is possibly there [are] three locations where the fire started and we are organising for investigators to go out and investigate formally," he said.
"The crews have done some good initial observations of those points of origin and kept them in a position to investigate them… we will be treating them as suspicious, yes."
VicRoads are urging motorists not to travel on the Princes Highway unless necessary, with large plumes of smoke making visibility difficult.
"It's impacted by large plumes of smoke, again we ask people to delay non-essential travel, we have a VicRoads crew there waiting in case the freeway needs to be closed, ready to act if that needs to happen."
Guests at the Little River Hotel and Little River Bed and Breakfast are currently being evacuated by staff.
"There is smoke and everything," said an employee at the Little River Hotel.
However, not all businesses in the area are choosing to evacuate.
"We haven't been instructed to evacuate yet because the fire is heading towards Werribee at the moment," said Little River General Store employee Madde.
Three aircraft and 30 fire trucks have been deployed.
Bulban Road, Edgars Road and Kirks Bridge Road are all impacted, according to emergency services.
"Please avoid the area, make way for emergency vehicles and follow directions issued by emergency personnel," the emergency alert reads.
There is also an advice warning for the fire for those in Avalon, Cocoroc, Point Wilson and Werribee South.
"There is currently no threat to you, but you should stay informed and monitor conditions," the CFA warning reads.
"Smoke will be visible from nearby communities and roads. Keep the roads clear so emergency services can respond."
Little River is located 50 kilometres south-west of the Melbourne CBD.
Avalon Airport, the closest weather station, is showing a current temperature of 39.8 degrees just after 1pm and winds at 44km/h, with peak gusts of up to 57km/h.
A relief centre has not yet been set up.
V/Line train services on the Geelong line have also been temporarily stopped until further notice, with road coaches dispatched.
It comes after the first inferno of the summer, which broke out at Buninyong and Scotsburn, near Ballarat, was brought under control just before 11pm on Friday.
A total fire ban has been declared for the Mallee, Wimmera and Northern Country districts, where there is a severe risk of bushfires on Friday.
Melbourne is set to hit 38 degrees on Friday, the hottest day since the end of January, while Avalon Airport is forecast to reach 40 degrees.
Simone is a breaking news reporter for The Age. Most recently she covered breaking news for The Australian in Melbourne.
Liam is Fairfax Media's science reporter